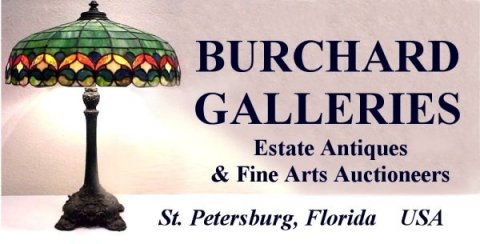 Offices & Showroom - 2528 30th Avenue North - St. Petersburg, Florida 33713
727-821-1167 1-800-520-2787
Directions to Burchard Galleries Shipping Information
---
2015 Auction Calendar
Saturday July 25 8:30 AM Marathon Multi-Estate Discovery Auction
Preview: 7/25 8 AM
Sunday July 26th 12 PM Vintage Estate Antiques Fine Art & Jewelry Auction
Preview: 7/25 1-6 PM 7/26 10 AM
Full Catalog to Date Full Art Catalog to Date Full Jewelry Catalog to Date
International Ad Page 1 International Ad Page 2 Flyer Page 1 Flyer Page 2
St Petersburg FL … The place to be and well worth the Drive! Vintage Estate Antiques and Artwork Galore featuring many fine items such as Russian Silver and Icons, Miniature Paintings, Huge Collection of Rare Delft Porcelain, Luxurious Furs, and fine Jewelry from a prestigious Bellaire Florida Estate; Partial contents from the historic Collins House on Collins Street in Plant City; The continuation of that "Rare Storage Facility Find", Another Truckload from Fernando Beach, fine early American and elegant high quality furniture such as Baker, Kittinger, Councill etc. from "The" major hotel renovation on Florida's First Coast; R.J. Horner Furniture; High-end Victorian Furn; Oak Barber Chair; Palatial Chandeliers; Oriental Furniture & Porcelains; Sevres "Boys Playing Badminton" Pedestaled Tazza; Sevres Table and Lamps; Meissen Religious Plaque; Carved Wooden Santos; Antique Clocks; Regina Music Box w/ Discs; Vintage Lighting; Bergman Bronze Arab Lamp; Huge Comic Collection; Loetz, Steuben, Aurene, Peach Blow, Duncan McClellan Art Glass; Large Verlys Glass Collection; Cybis; Wavecrest; Gold Coins; Ornate Sterling Silver; Sumptuous Gold, Platinum, and Scintillating Large Diamond Jewelry, Gold Luxury Watches, and beautiful Gemstone Jewelry from around the world and more
Over 150 Works of Art: Artists represented include: Henry DAY, Ronald FRONTIN, Alberto MARTINI drawings and etchings, Howard P. MAEDER estate artworks, Thomas MORAN, Giovani PIRANESI, Anne PUYBAREAU, Andy WARHOL prints, Old Master and unsigned masterworks, Many Salmagundi Club Artists, Many (20+) Framed Continental Miniatures, Japanese Bronzes and Woodblocks, Florida Highwayman and an assortment of Vintage and Antique Original Advertising Posters from the collection of the former owner of the Daytona Beach News Journal, …. Just a sample of the important 18th, 19th, and 20th C. Original Oils, Watercolors, Icons, Bronzes, Sculpture, Photographs, Prints, Drawings and more included in this 500+ Lot "Fresh to the Market" Auction! It will most certainly be another "Unbelievable Auction Weekend"! See you there!
July 26th Auction Action held Live and Online @ LiveAuctioneers.com and Invaluable.com
Treat yourself to a huge assortment of estate fresh treasure that "Must Be Sold" and the best part is… "You Name The Price"! Bring your trucks!
For details: 727-821-1167, mail@BurchardGalleries.com or www.BurchardGalleries.com
Quality Consignments Always Welcome!
●June 27/28 ●July 25/26 ●August 22/23 ●Sep 19/20 ●Oct 17/18 ●Nov 14/15 ●Dec 12/13
burchard galleries home ● calendar of events ● bid information ● directions

● mailing list ● consignment info ● Auction archives ● site map ● the company
---
All rights reserved. Copyright © Burchard Galleries Inc. 1996-2015
Join our free notify list! Each time we have news of a special sale
by one of the advertising auctions you get an email
with a link to the new flyer or catalog
Our lists are not sold.
They are a private list for our members at auctiontecs.
---
All rights reserved. Copyright © Burchard Galleries, Inc. 1996-2014