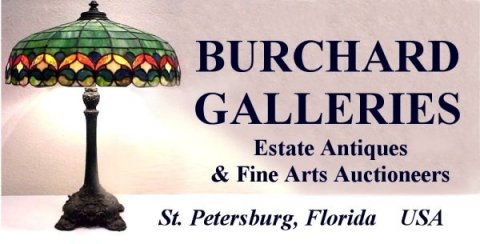 Offices & Showroom - 2528 30th Avenue North - St. Petersburg, Florida 33713
727-821-1167 1-800-520-2787
---
2016 Auction Schedule
"The Cutting Edge of Acquisition"
Directions| | Shipping Information | Auction Archives | Burchard Galleries Home
Sat July 23rd 8:30 AM Marathon Multi-Estate Discovery Auction
Preview: 8:00 AM till sale end Consignments Welcome
Sun July 24th 12 PM Vintage Estate Antiques Fine Art & Jewelry Auction
Preview: 7/23 1-6 PM 10 AM Day of Sale Consignments Welcome
Printable Full Auction Catalog to Date | Fine Art Only Catalog | Jewelry Only Catalog
St Petersburg FL … The place to be and well worth the Drive! Our July 24th Auction will include furnishings from the Estate of Patrick Emory, Photojournalist and News Anchor for CNN along with Artworks and Treasure from around the world. Major Thomas G. Bayless's 16 Pc Dining Suite by Century Furniture; Show-stopping Inlaid Chinese Furnishings; Richly carved Japanese Furniture & Cabinetry; Slag Glass Lamps and Vintage Lighting; Chinese Opium Bed; Leaded Glass; Japanese Porcelains; Cloisonne; Meissen, Dresden and Lladro Figurines; 1974 Karmann Ghia Convertible; Mucho Waterford; Large Ship's Wheels, Lanterns & Nautical Antiques; Columbia Grafonola; Winchester 1874 Rifle; Lane Boomerang & Pearsall Modern Furn; Gold Coins & Currency; Sterling Silver; Luxury Watches, Kunz, Chopard, Rolex & more..; Gold Pocket Watches and of course, a stellar assortment of Stunning Estate Gold and Diamond Jewelry.
Also over 100 Works of Art: Important 18th, 19th, and 20th C. Original Oils, Watercolors, Bronzes, Sculpture, Photographs, Prints, -and Drawings by artists such as BREITNER, George Hendrik; BUSCI, Alessandro; CALVETI, Fabio; MACK, Bill; MARTINI, Norberto; PAOLI, Bruno; TRAUTSCHOLD, Wilhelm; a large collection of Joyce Van Tassel Page Florida Outsider Paintings and more will be on the Auction Block. A "Fresh to the Market" Auction you won't want to miss. It will most certainly be another "Unbelievable Auction Weekend"! See You There!
For details: 727-821-1167, mail@BurchardGalleries.com or www.BurchardGalleries.com
Quality Consignments Always Welcome!
●Jul 23/24 ●Aug 20/21 ●Sep 17/18 ●Oct 15/16 ●Nov 12/13 ●Dec 10/11
burchard galleries home ● calendar of events ● bid information ● directions● mailing list ● consignment info ● Auction archives ● site map ● the company
---
All rights reserved. Copyright © Burchard Galleries Inc. 1996-2015

Join our free notify list! Each time we have news of a special sale
by one of the advertising auctions you get an email
with a link to the new flyer or catalog
Our lists are not sold.
They are a private list for our members at auctiontecs.
---
All rights reserved. Copyright © Burchard Galleries, Inc. 1996-2016